Modernization and repairs of machine tools
Modernizations and repairs are done by our "parent" company M-MOOS Ltd., which is on our market more than 15 years .This long experience and background allows to perform large rebuilding of heavy machinery.
General and middle-size repairs
General and middle-size repairs are performed in the usual range for the following machines:
Universal lathes with turning diameter till 2000 mm
milling machines with table size till of 500 mm
drilling machines to drilling capacity 120 mm
grinding machines to the table size 630 mm
Sawing up to size 320 mm
shearing machine, bending machine in thickness. cut. Mat. 6.3 mm
horizontal boring and milling machines
Other machinery and equipment by private agreement
Reconstruction to the CNC control
Since 2001 we perform a complete reconstruction and modernization of control systems. Reconstruction of conventional machines, numerically controlled machine consists of a complete overhaul, replacing the existing bolts for precision ball screws, instalation drives and control system. Selecting control system is dependent on the desires and habits of customers. Choice system is based on the current market trends, customer can choose the control system SINUMERIK, Heidenhain, Fanuc and Mitsubishi. Our company has its own workers who are regularly trained in the other producers of governance and steering systems.

On the machines we provide a guarantee min. Twelve months. After the customer can be arranged even longer period. An integral part of the delivery protocol is accuracy, audit report and accompanied by electrical documentation.


Old, used, manual lathes SUA 125 before modernization in the operation ŽDAS a.s.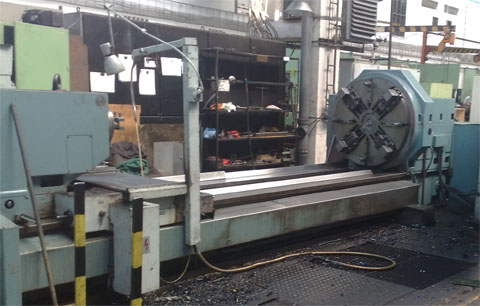 SUA 125 after the modernization - rebuilt with control system HEIDENHAIN MANUALplus 4110